You are here: Home // Trekking // Cordillera Huayhuash // 10 Days Trek
---
Cordillera Huayhuash
10 Days Trek
Grade:
Moderate / Hard
Season to visit:
april to September
Max . altitude:
5000 m
Shorter Classic trek following the same fantastic circuit but without the diversion to visit Siula Base Camp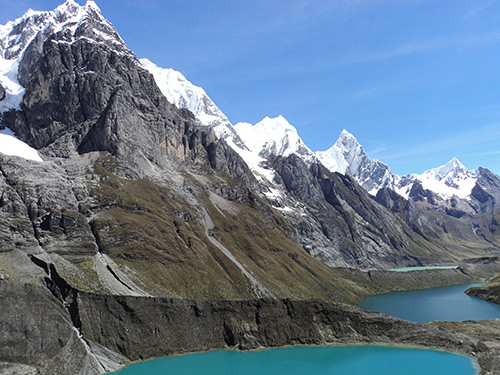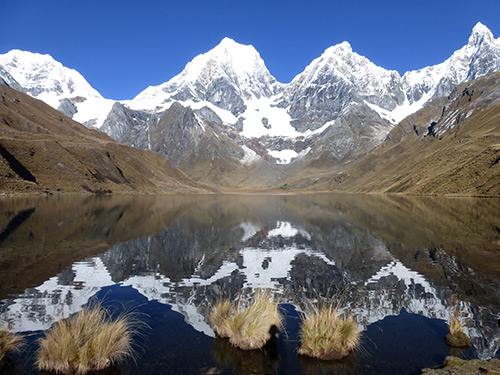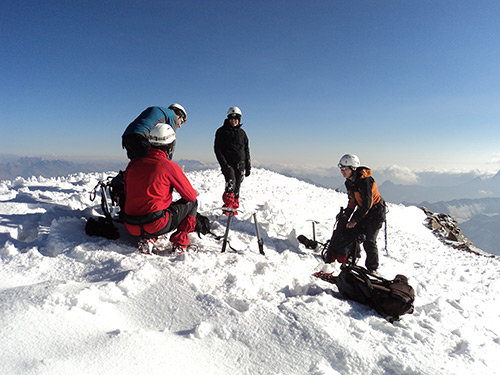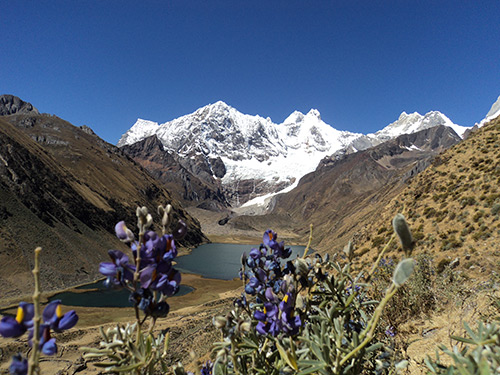 ITENERARY:
Day 1:
Drive from Huaraz to Quartelhuain 4200m and camp (driving 4 hours) then in the evening hike up over short view point around 2 hours and back to the camp site
Day 2:
Cross our first pass Punta Cacanan 4700m then descend to camp at a large lake Laguna Mitucocha 4220m. 6 hours walking.
Day 3:
We climb up to our next pass ,Paso de Carhuac 4650m to camp at Laguna Carhuacocha 4150m 6 hours walking. From there we can see giant peaks like:Carnicero,Siula Grande,YerupajaGrande,Yerupaja chico,Jirishanca Grande and Jirishanca chico
Day 4:
There are 2 options: A gradual ascent on a good path to cross Pass Carnicero 4600m (5 to 6 hours walking) or a more challenging Siula Pass (4800m) 7 to 8 hours walking. And then camp at huyahuash 4430m one of the coldest place, here we find a few farming families living
Day 5:
We climb up to another pass Portachuelo de Huayhuash 4750m. We descend nex to a large lake Viconga where we often see a lot of Llamas and Alpacas, then camp at 4350m . There are natural hot spring baths next to the camp where we can take hot shower ,5 hours waling
Day 6:
We will be enough acclimatised now and ready to cross our highest pass of the trek, Punta Cuyoc 5000m. The descent is initially steep on the moraine then is easier ,down to 4400m and then we climb up to our second pass (view point 2:30 extra) over 4900m finally we descend in a Green wide valley and camp in Quebrada Huanacpatay 4300m 8 to 9 hours walking.
Day 7:
Follow down the valley Quebrada Huanacpatay to the large mountain village of Huayllapa. After visiting this village and relaxing we need to climb through a steep and hot valley and camp in Huatiac 4250m ,7 hours walking
Day 8:
A tough day as we cross two passes Pass Punta Tapush 4750m, then Punta Yaucha 4800m. Descend to camp at the beautiful lake Laguna Jahuacocha 4150m 8 hours walking.
Day 9:
An extra day at Laguna Jahuacocha which must be one of the most beautiful sites in the Huayhuash. visit Soltera Cocha Lake(2 hours walking), hike up the pass Sambunya 4750m (6 hours walking) or just take a rest and try trout fishing.
Day 10:
The final pass Pampa Llamac 4300m and a long descent to Llamac. 5.hours walking. Return to Huaraz
---
BOOK NOW!
«Back
Trekking Cordillera Huayhuash 14 days