You are here: Home // Bus tours // Lake Paron
---
Lake Paron
Bus Tour
AVAILABILITY:
All year round
BEST TIME:
Mid-April to late October
DURATION:
7 to 8 hours
MAX ALTITUDE:
4140m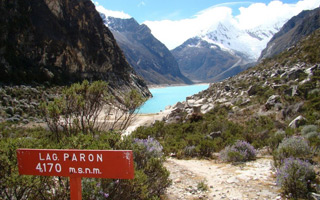 Driving along the valley called Callejon de Huaylas, passing some small towns,finally arriving to Caraz 2200m from where we drive up to the Paron village and then getting over 4140m laguna de Paron.
Laguna Paron is a bright blue lake surrounded by spectacular snowcapped peaks, with the magnificent Piramide 5885m being situated directly at the head of the lake. It is one of the few lakes that are accessible by vehicle. (around 3 hours drive each way) The drive to the lake is through a spectacular canyon with 1000m high granite walls. Once at the lake, you can take a hike along a path around the side of the lake. Allow for a long day away from Huaraz.
---
BOOK NOW!