You are here: Home // About Peru
---
About Peru
Welcome to Peru
Peru is South America 's third largest country, its 25 million inhabitants approximately and an Area of 1, 285.21 square kilometers, Peru contains some of the most varied geography in South America with three different regions: Coastal desert, Andean Highlands and Jungle area. The main Capital is the Lima City located on the Pacific Coast.
Peru has two official languages: Spanish and Quechua, the language of the Inca Empire, while English is spoken by some people, mostly who dedicate on Tourim activity. Peru has important tourist places for his visitors like Cordillera Blanca , Cordillera Huayhuash , Machupichu in Cusco, Colca Canyon in Arequipa, Floating Islands of Lake Titicaca in Puno, etc, etc. The wheatear on each region is very varied and unstable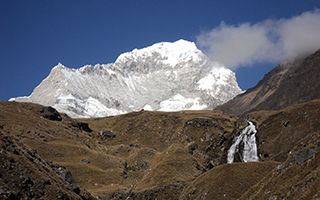 Cordillera Blanca Range
The Cordillera Blanca ( White Mountain Range ) is located at (408 km) north west of Lima with 180km long approximately, covered by large snow caped, Cordillera Blanca has more than 35 highest Mountain peaks over 6000m and is crowned by the Huascaran, (6768m); Cordillera Blanca has 663 snow caped mountains in total, 269 Lakes, 42 Rivers and more than 33 archeological places.
Eight hours driving Traveling from the capital city to the Huaraz will take you through many wonderful sites. The first mountain pass is called Conococha at 4100m in the way mormaly you can appreciate beautiful peaks along the Cordillera Blanca including Mt. Huascaran (6768 mt). Huaraz City is located in the Ancash region between Cordillera Blanca and Cordillera Negra at (3091m ) Huaraz City is the beginning point to organize expedition around cordillera blanca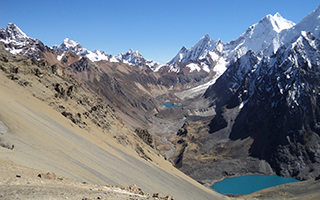 Cordillera de Huayhuash range
The Cordillera Huayhuash is a small, compact and remote mountain range to the south of the Cordillera Blanca.
The trekking and hiking routes make a complete circuit of the range, and offer unequalled close up views of majestic high peaks and glaciers and many large blue trout-filled lakes also here we find the second highest mountain in peru, Yerupaja and siula Grande- the mountain made famous by the Joe Simpson book and movie
"Touching The Void"