You are here: Home // Trekking // Cordillera Huayhuash // Cajatambo – Lima
---
Cordillera Huayhuash Cajatambo – Lima
8 Days Trek
Grade:
Moderate / Hard
Season to visit:
april to September
Max . altitude:
4800 m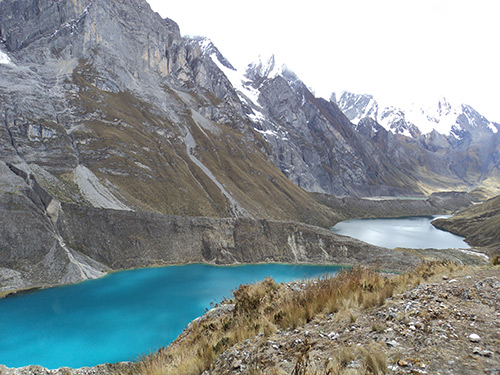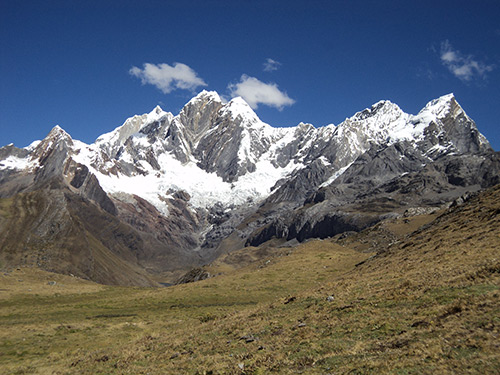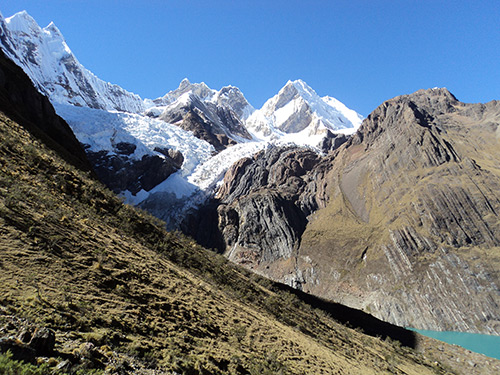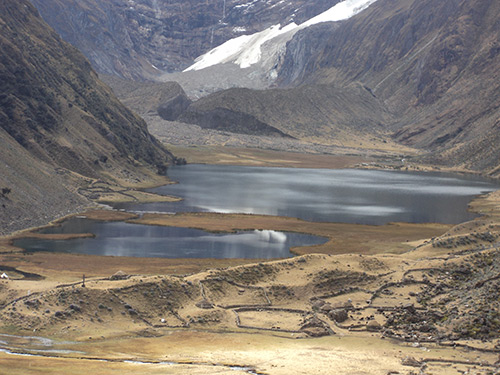 ITENERARY:
Day 1:
Drive from Huaraz to Llamac small village ,from where the trek start over 3500m,( 4 hours driving) then steep climbing up to pampallamac pass 4300m ,with a spectacular views of rocky peaks and some White mountains,then descending gradually at laguna jahuacocha camp site 4150 m,6 to 7 hours walking
Day 2:
Leaving in the morning gently up by the lake jahuacocha ,then climbing up to our first pass Sambunya 4750m from where we will have a spectacular views of different mountains and special the highest Yerupaja (6634m) then descend to Rondoy valley and finally going gently up at Quartelhuain camp site 4200 mt . 7 hours walking.
Day 3:
Crossing our second pass Punta Cacanan 4700m then descend to camp at a large lake Laguna Mitucocha 4220m. (janca valley) from this place we can see some White peaks like: JIRISHANCA grande ,NINASHANCA,RONDOY after 6 hours walking.
Day 4:
We climb up to our next pass Pass Paso de Carhuac 4650m to camp at Laguna Carhuacocha 4150m 6 hours walking. From there we can see giant peaks like:Carnicero,Siula Grande,YerupajaGrande,Yerupaja chico,Jirishanca Grande and Jirishanca chico
Day 5:
There are 2 options: A gradual ascent on a good path to cross Pass Carnicero 4600m (5 to 6 hours) or a more challenging Siula Pass (4800m) 7 to 8 hours walking. And then camp at huyahuash 4430m one of the coldest place, here we find a few farming families living
Day 6:
We climb up to another pass Portachuelo de Huayhuash 4750m. then We descend next to the large lake Viconga where we often see a lot of Llamas and Alpacas, finally camping at Atuscancha camp site 4350m.5 hours walking. There are natural hot spring baths next to the camp where we can take hot shower after many days.
Day 7:
Easy day descending for couple of hours in the wide Green valley in the way we could apreciate some farmer dressing their colorful clothes ,the last gently going up to Sancristobal pass over 4150 mt and challenging descending to Cajatanbo town, where we spend the night in the hotel after 8 hours walking
Day 8:
driving about 10 hours to Lima or to Huaraz in the way we will apreciate many farming families one of the bigest hidroelectrical power station and arriving to the half way between Huaraz – Lima called Pativilca
---
BOOK NOW!
«Back
Trekking Cordillera Huayhuash 14 days